~  Handmade in a variety of lengths and thicknesses to add interest.

~  Sewn with brightly colored 100% cotton fabric and 100% cotton thread.

~  Stuffed plump with 9 grams of 100% Organic ingredients including: safflowers, oat groats, milo, spelt, hard red spring wheat, canary seeds, quinoa, flax, buckwheat, millet, amaranth and sesame seeds.

~  We have also stuffed some of our Seedsy Rolls with pecans and almonds in addition to the variety of seeds.  You should see how our birds ATTACK the Seedsy Rolls looking for those added nuts.  WOW!!!

SEEDSY ROLLS (plain)..................$1.25 each

SEEDSY ROLLS (with almonds).......$1.50 each

SEEDSY ROLLS (with pecans)........$1.50 each

Where Birds of a Feather "BOBBLE" Together!!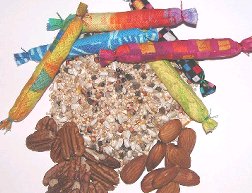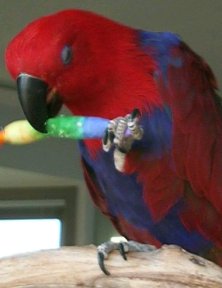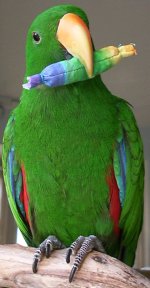 Foraging AND Fun all rolled up in one!!

RETAIL STORES please
contact us
for Wholesale & Distributor Pricing
A unique foraging toy stuffed with goodies and cleverly packaged to fullfill our caged bird's natural instinct and necessity to forage for food.

Our "Chilie" has a towel covered with seeds in front of him, but he would rather have his Seedsy Roll filled with seeds...check it out on YouTube!!

Seedsy Rolls aren't too big for our precious little Angel...check it out on YouTube!!

Tangie is so meticulous with her Seedsy Rolls, she works it until she gets absolutely every last seed...a must see on YouTube!!!

NOTE:  HI to all of our wonderful "feathered" clients...We just want to say THANK YOU SO MUCH for all of your orders.  Over the years our "fan base" has been increasing exponentially and our feathered clients who love our Footsy Rolls are getting smaller and smaller (literally).  Our smaller bird clients do not use their talons/feet to hold their Footsy Roll and they enjoy them just as much as the bigger birds - our male Eclectus, Chilie (seen below), never uses his foot/talon for holding anything and he is the first in line for his bird treats - now called SEEDSY ROLLS!!!  So we are changing our Footsy Roll name to the more appropriate name Seedsy Roll.  SEEDSY ROLLS ARE THE SAME GREAT FORAGING TREAT WITH THE SAME GREAT QUALITY - nothing is different but THE NAME!!!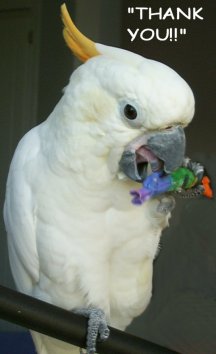 We have also packaged our Bestselling Seedsy Rolls in packs of 5 and packs of 10.  SAME GREAT QUALITY, SAME GREAT TREAT/FORAGING TOY...just a better NAME that tells you exactly what you are getting!!!

SEEDSY ROLLS Pack of 5 (plain)..................$6.25/pack

SEEDSY ROLLS Pack of 5 (with almonds).......$7.50/pack

SEEDSY ROLLS Pack of 5 (with pecans)........$7.50/pack

SEEDSY ROLLS Pack of 10 (plain)..................$12.50/pack

SEEDSY ROLLS Pack of 10 (with almonds).......$15.00/pack

SEEDSY ROLLS Pack of 10 (with pecans)........$15.00/pack