Where Birds of a Feather "BOBBLE" Together!!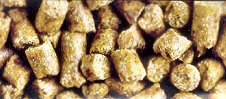 Simply the Best

World famous zoos,

avian veterinarians, and

breeders worldwide feed

Roudybush because it's a more

complete and nutritionally

balanced diet than seed.

~ 100% edible ~

` No added sugar ~

` No animal By-products ~

~ No artificial colors or flavors ~

~Vitamins and minerals in every bite ~

Pellet sizes for your birds (photos are approx. actual size)

MEDIUM:  African Greys, Eclectus, Large Conures, Ringnecks, Rosellas and Timnehs

ROUDYBUSH products insure that your bird is getting the right nutrients in each pellet.

DAILY MAINTENANCE is a highly palatable diet for the average bird and supplies

nutrients needed to allow birds to look their best and to live long, healthy lives.

Daily Maintenance...44 oz. package.....$12.95 NO LONGER AVAILABLE (special order only at an additional cost)

LOW-FAT DAILY MAINTENANCE addresses the widespread problem of obesity in

pet birds. We are no longer carrying all sizes - we carry the Medium size only.

Low-Fat Daily Maintenance (Medium) 44 oz. package.....$12.95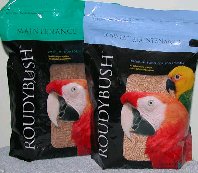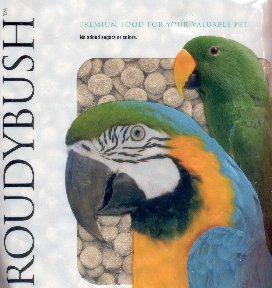 RICE DIET:  Roudybush introduces a new maintenance diet formulated from rice products, minerals and vitamins.  Birds showing signs of allergies to other food products such as feather picking may benefit from this diet (Although this product does not require a veterinarian's prescription, with all serious health problems, it is recommended that a visit with a qualified veterinarian be scheduled to rule out other causes of self-destructive behavior before changing a birds' diet.) We have the Small pellet size available.

OUT OF STOCK  - SPECIAL ORDER ONLY

Roudybush Small Rice Diet (18 oz).....$15.95