Where Birds of a Feather "BOBBLE" Together!!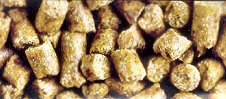 Simply the Best

World famous zoos,

avian veterinarians, and

breeders worldwide feed

Roudybush because it's a more

complete and nutritionally

balanced diet than seed.

~ 100% edible ~

` No added sugar ~

` No animal By-products ~

~ No artificial colors or flavors ~

~Vitamins and minerals in every bite ~

Pellet sizes for your birds (photos are approx. actual size)

MEDIUM:  African Greys, Eclectus, Large Conures, Ringnecks, Rosellas and Timnehs

ROUDYBUSH products insure that your bird is getting the right nutrients in each pellet.

DAILY MAINTENANCE is a highly palatable diet for the average bird and supplies

nutrients needed to allow birds to look their best and to live long, healthy lives.

Daily Maintenance...44 oz. package.....$12.95 NO LONGER AVAILABLE (special order only at an additional cost)

LOW-FAT DAILY MAINTENANCE addresses the widespread problem of obesity in

pet birds. We are no longer carrying all sizes - we carry the Medium size only.

Low-Fat Daily Maintenance (Medium) 44 oz. package.....$12.95