These simple Pistachios are farm fresh, all natural and now 100% ORGANIC. 

Tree-ripened, these pistachios are allowed to open naturally ensuring the best tasting nuts possible.

Pesticide free, the flavored pistachios are premium U.S. Fancy grade nuts soaked in all natural brines which saturate the nuts with 100% flavor penetrating deep into the meat of the nut.  No additives, spray-on chemical flavorings, bleaches, dyes or preservatives are ever used.  To ensure premium quality, these pistachios are slowly hot-air dried in small batches.  Total quality control from tree to your table.

These pistachios are more than just a great tasting pistachio, they are loaded with vitamins and minerals and contain no trans fats or cholesterol.

100% ORGANIC NO SALT PISTACHIOS: These are cholesterol-free pistachios that are slowly dried for enhanced flavor and perfect for salt-restricted diets which makes them PERFECT for our wonderful birds.

NO LONGER AVAILABLE

1 lb. bag.....$12.95 each      

5 lb. bag.....$60.00 each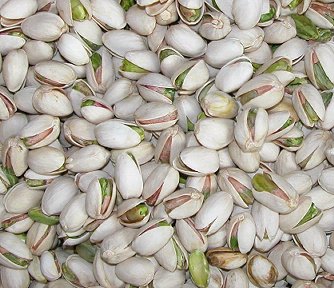 YOUnique Products for YOU and YOUr Birds!!