COMFY PERCHES: "Your bird will love the new shapes, bright colors and feel of these perches.   Braided, multi-colored and bendable cotton rope perches that allow you to have fun creating different types of perches for your birds while holding their shape.  Depending on the length of the cable, you can create loops, curves and other interesting shapes.  Hand washable."

Ex-Small....(approx. 14" x 3/4")....$6.95 each

Small.....(approx. 21" x 3/4")....$7.25 each 

Medium.....(approx. 32" x 7/8").....$13.95 each

Large.....(approx. 28" x 1").....$18.50 each

Ex-Large.....(approx. 36" x 1").....$20.95 each OUT OF STOCK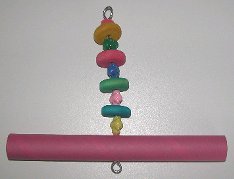 TUBULAR PERCH: This perch adds "fun" to just lounging around the cage or the play gym.  We have strung 1-1/4" toy wheels and hard plastic theme beads on Stainless Steel wire for their chewing enjoyment.  The 9" x 1" dia. tubular perch piece is a newly shaped Birdie Bagel begging to be chewed on too.  Approx. 7" long x 9" wide

OUT OF STOCK

Tubular Perch.....$7.50 each



YOUnique Products for YOU and YOUr Birds!!