Just Pineapple: Nothing less than a tropical taste delight - this is like eating candy.  If you like pineapple, you will just love these crunchy tidbits.  The birds go absolutely "fruity" for these delicious morsels.  Just Pineapple...3 oz....$7.25 each  OUT OF STOCK


"AN EASY WAY TO  'Help get your 5 to 9 recommended daily fruits and veggies during a busy 9 to 5'."  You can just imagine what your feathered friends will think of these tasty treats.  Why not improve your diet along with your birds...

These simple fruits and veggies are of the highest quality and grade.  They are all natural and absolutely NOTHING is added during the dehydrating and freeze-drying processes: 

~ No salt. 

~ No sweeteners. 

~ No fat. 

~ No preservatives. 

~ No sulfur.

All items are just what they say they are, with only the water removed. 

These specialty foods provide an all natural product and a great eating experience for people and birds alike, while at the same time furnishing nutritional value.

The intense flavor and unique textures of these simple products satisfy taste buds when eaten alone or when added to other foods.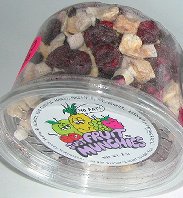 Just Fruit Munchies:  A combination of apples, raisins, sour cherries, blueberries, mango, pineapple and raspberries.  A deliciously sweet/tart combination of intense flavors to entertain those taste buds.  Just Fruit Munchies...3 oz....$7.50 each

OUT OF STOCK

Just Raspberries: A tangy sweet flavor explodes in your mouth!  A great snack - but, oh, so much more... add anywhere you want a flavor burst OR eat right out of the tub. 

Just Raspberries...2 oz....$6.50 each  OUT OF STOCK

Just Peas:  A favorite of kids/birds of all ages - especially those who have fun picking them up one at a time.  These peas are a filling snack packed with nutrition.  Fun to cook with too.

Just Peas...3.5 oz....$5.25 each OUT OF STOCK

Just Veggies:  This company's most popular product!!  It is a wonderfully sweet and crunchy snack of carrots, corn, peas, bell peppers and tomatoes.  A great tasting, guiltless snack that can be enjoyed any time and with your birds, too.  Just Veggies...4 oz....$5.25 each

OUT OF STOCK  

Just Corn:  One of their most popular products.  Use anywhere you would use fresh or frozen corn.  OR eat this sweet corn "off the cob" as a snack right out of the container.  

Just Corn...4 oz....$5.25 each OUT OF STOCK




YOUnique Products for YOU and YOUr Birds!!