$10.00 GIFT CERTIFICATE: Not sure what to get that special someone for a gift...we now have Gift

Certificates available.

$10.00 Gift Certificate...$10.00 each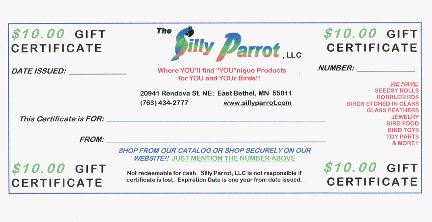 Do You have a Gift Certificate to redeem????  After you have picked out what you would like to purchase, just check out as usual and right after you enter your credit card information there will be a "Special Instruction Dialog Box" where you can give us your Certificate Issue Dates and the Certificate Numbers for your Gift Certificates.  It's that simple...we will take care of the rest here.

YOUnique Products for YOU and YOUr Birds!!