Train Your Bird To Talk DVD/CD:  In this DVD, professional animal trainer Barbara Heidenreich teaches you how to train a parrot to talk. She addresses common myths about talking parrots, which birds make ideal candidates for talking,  the most effective ways to expose your parrot to sounds you want repeated, proven methods for encouraging your parrot to vocalize and most importantly how to train your parrot to talk on cue. Also included is an appearance by Einstein, the Talking Texan Parrot, plus an interview with her human companions. Bonus CD ROM includes recordings of a variety of species of parrots vocalizing to inspire your bird to talk.  Disc 1 includes a 43 minute instructional video filmed in high definition. Disc 2 includes mp3 recordings of parrots talking.

Train Your Bird To Talk DVD/CD...$21.95 each

Get Your Bird Back! What to Do When A Parrot is Lost DVD #4:  There are few things more heartbreaking than when a beloved parrot accidentally escapes. Barbara Heidenreich and Robin Shewokis were inspired to make this DVD by the thousands of pleas from parrot owners desperately seeking help to recapture a lost bird. This DVD features detailed instructions to help you get your lost parrot back, as well as useful tools such as lost bird flyers, lists of people to contact and a variety of parrot calls. This DVD is a must for any parrot owner. Be prepared. Learn in advance how to prevent the heartache so many have experienced when a parrot is lost. You CAN get your bird back and this DVD can help. 46 Minutes. Filmed in High Definition.

Get Your Bird Back! What to Do When A Parrot is Lost DVD #4...$21.95 each

Parrot Behavior and Training DVD #1:  The first in our series of Parrot Behavior and Training DVD's, this DVD covers the basic fundamentals of training with positive reinforcement. We give you detailed instructions on how to shape behavior. Our training subjects are companion parrots learning behaviors for the first time. Be the first to experience these special moments of learning captured on film.  46 Minutes. Filmed in High Definition.

Parrot Behavior and Training DVD #1...$21.95 each

Training for the Veterinary Exam DVD #2:  Make your parrot's next visit to the veterinarian stress free! This DVD shows you how to train your parrot to cooperate in his own medical care. Step by step instructions demonstrate how to train each behavior. 46 Minutes. Filmed in High Definition.

Training for the Veterinary Exam DVD #2...$21.95 each

Understanding Parrot Body Language DVD #3:  Reading your parrot's body language is one of the most important skills you can learn to help you build a relationship with your parrot based on trust. It is how your parrot communicates. In this DVD professional animal trainer Barbara Heidenreich guides you through the process of looking at a combination of body parts and what they are doing under different circumstances to give you an idea of just what might be going on in those very special bird brains.  46 Minutes. Filmed in High Definition.

Understanding Parrot Body Language DVD #3...$21.95 each

Good Bird Magazine (Volume 5 Issue 4):   Winter 2009

Table of Contents:

From the Editor's Perch

International Flavor By Barbara Heidenreich

Positive Reinforcement for Good Bird 

Feature Articles:

This Parrot Has Become a Problem By Barbara Heidenreich

Improving your Parrot's Visit to the Veterinarian By Alicea Schaeffer (BS,RVT,CPDT, KPA CTP)

Building Trust with Nuts By Chris Shank

My Parrot Doesn't Play with Toys! He Doesn't Need Enrichment By Robin Shewokis

                                                                                                        Regular Features:

Profile of an Animal Lover - Michele Barnes

In Memoriam – Andrew Bosman

How Did They Train That?

Stick Training your Parrot By Barbara Heidenreich

What Is Your Bird Saying? Learn to Read Bird Body Language 

Your Good Bird! Reader Success Stories

A Second Chance for a Special Senegal Parrot By Hildegard Niemann

Success with a Parent-raised Amazon Parrot By Jarmo Tuutti

Getting Started with a Foster Bird By Sue Larson

Out of the Mouths of Parrots

Conference, Event Reviews and Press Releases

Upcoming Events and Seminars

Good Bird Magazine (Winter 2009)...$6.00 each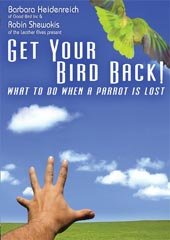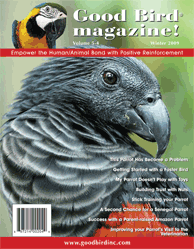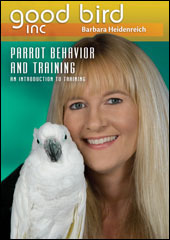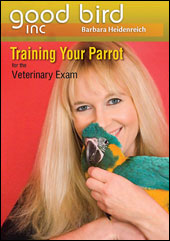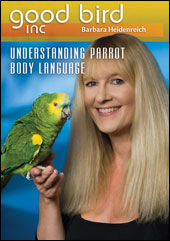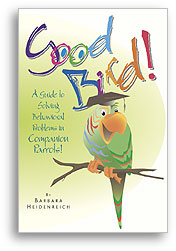 The Parrot Problem Solver: Finding Solutions to Aggressive Behavior  by Barbara Heidenreich 

When not properly trained and socialized, parrots are prone to developing a number of behavioral problems, including aggression and self-mutilation. Many owners face these problems and need guidance on solving them. This book will help you turn your pugilist parrot into a feathered friend. It provides the tools and advice you need to prevent and solve aggression problems in your pet bird. With the easy-to-follow training techniques, you can say goodbye to biting, screaming, lunging, and other not-so-friendly behaviors and build a warmer and more loving relationship with your companion parrot. Some of the topics include: Wild bird behavior and how it affects the bird/owner relationship; the best and worst ways to modify pet bird behavior; understanding bird body language; and sidebars on the myths and misconceptions of keeping pet parrots.

Pages: 192 pp.

Published: 2005

Illustrations: Color photos

Binding: Hardcover

Size: 6.375" x 9.5"

The Parrot Problem Solver...$17.95 each

Good Bird! A Guide to Solving Behavioral Problems in Companion Parrots!  by Barbara Heidenreich 

A professional in animal behavior has created an easy-to-read step-by-step guide that uses positive reinforcement for teaching your parrot acceptable behavior. This book will help you deal with screaming, biting, feather-picking, bonding, and other difficult parrot behaviors. Chapters include Preparing the Companion Parrot Owner, Screaming, Biting, Bonding to One Person, Cage Bound Bird, and Feather Picking.

Training is a form of teaching. The companion parrot learns when the trainer positively reinforces (or rewards) each small step the subject takes towards the desired behavior. Using the principles described in training, it becomes easy to teach birds what is the desired response. The beauty of training using positive reinforcement is that it works! In this book the author prepares the trainer in the first chapter. She then describes some typical problem behavior scenarios experienced by companion parrot owners. She then provides an explanation as to why the behavior may be occurring and offers a step-by-step explanation of how to address the problem behavior using training techniques based on positive reinforcement.

Pages: 80 pp.

Published: 2004

Illustrations: Black/white photos

Binding: Paperback

Size: 6" x 9"

Good Bird!...$15.00 each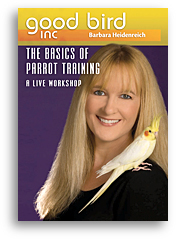 The Basics of Parrot Training:  A Live Workshop  Everything you wanted to know to help you get started training your parrot is captured in this video of one of Barbara Heidenreich's world-renowned Parrot Training Workshops. Barbara is famous for her entertaining and enthusiastic presentation style. But her true gift is her kind and gentle approach to animal training. You will learn how to train your parrot, read his/her body language, solve behavior problems, and watch Barbara demonstrate these techniques with parrots she is meeting for the first time. Most of all you will learn how to have a great relationship with your bird based on trust. Discover how these training methods can help you have a fun, well-behaved, and interactive companion parrot.  Running Time: 4 hours.  Published: 2010.  Format: 3-DVD Set

The Basics of Parrot Training:  A Live Workshop...$39.95 each


Barbara Heidenreich -  "I've always known animals were my calling." 

After receiving her degree in zoology and trying many different types of animal-related jobs, Barbara discovered the world of animal training… and what a wonderful discovery it was!

Finally, a career where she could get to play with animals! In 1990 Barbara Heidenreich began training birds and staff in zoos around the country for free flight educational programs. This eventually evolved into consulting on animal training around the world. Barbara Heidenreich has served on the board of directors for the International Association of Avian Trainers and Educators for 12 years and was honored to be the first female president of the organization.

The companion parrot community is one that is near and dear to Barbara's heart. She has had a companion parrot, a Blue Fronted Amazon parrot named Tarah since 1987, and now has several other parrot additions to the household. Over the years of presenting free-flight bird shows, Barbara often received questions pertaining to companion parrots in the home. These questions lead her to pen the manuscript to her first book "Good Bird!" A Guide to Solving Behavior Problems in Companion Parrots" back in 2002. Since then she has authored a second book, produced a series of instructional parrot traning DVD's and launched Good Bird Magazine. She teaches parrot training workshops around the world and is thrilled to have had the opportunity to train thousands of companion parrots. This experience makes Barbara's teachings truly unmatched. This hands on experience with so many different individual parrots has been invaluable to helping her provide caregivers the tools they need to have a great relationship with their parrots based on trust.

Barbara Heidenreich is busy working on more resources for parrot enthusiasts. Join the Good Bird Inc mailing list and be the first to know when she has something new to help you with your parrot behavior challenges and parrot training goals.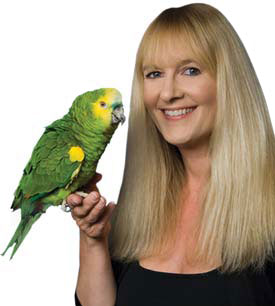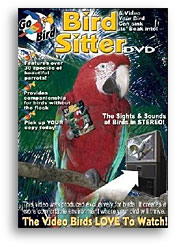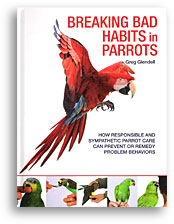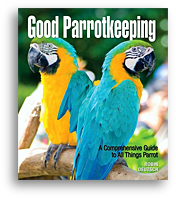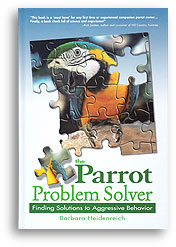 Bird Sitter DVD  by Steve Hartman & Steve Cantin 

Birds normally communicate frequently with the flock because they are constantly socializing and looking for predators. Just think about all the bird chatter you can constantly hear in your backyard. Birds' brains are designed for constant communication — something humans are not able to supply. This DVD will give your pet bird the opportunity to experience life in a flock, the way parrots were meant to live. The video exposes then to the sights and sounds of hundreds of parrots engaging in everyday life in a flock, giving your bird constant mental stimulus and making him or her happier and healthier. Now your bird will never have to be home alone! The Bird Sitter video also works great for helping escaped parrots find their way home.  Running Time: 86 min.

Bird Sitter DVD...$14.95 each

Good Parrotkeeping: A Comprehensive Guide to All Things Parrot  by Robin Deutsch

Written by an expert on parrot care, nutrition, and training, this all-inclusive guide provides in-depth coverage of topics vital to proper parrot care, including behavior, housing, feeding, training, and health care. The book features almost every species of parrot that is in the pet hobby (over 300 in total), including parakeets, cockatiels, macaws, cockatoos, lovebirds, and conures, and organizes them by their keeping parameters. As some parrots are more closely related than others, a detailed parrot chart notes their suitability as pets and ranks the birds by level of noise, messiness, ability to talk, and other qualities parrot-keepers need to know when deciding which birds are most appropriate for their home. Numerous tip boxes discuss how to make toys, solve behavior problems, and keep a parrot happy and healthy. Full-color photos, sidebars, and tip boxes illustrate key points throughout the authoritative text. The full spectrum of informative coverage makes this book a one-stop guide for bird hobbyists of every experience level — beginner, intermediate, and advanced.

Pages: 288 pp.

Published: 2009 

Illustrations: Color photos and charts

Binding: Hardcover

Good Parrotkeeping...$21.95 each

Breaking Bad Habits in Parrots  by Greg Glendell 

Learn how responsible and sympathetic parrot care can prevent or remedy common problem behaviors. Parrots are among the most highly intelligent creatures kept as pets. They are capable of forming very close and rewarding relationships with their handlers. However, it takes a lot of time on a daily basis to ensure that the parrot is content and mentally stimulated. Otherwise, the unhappy bird may develop a repertoire of problem behaviors, such as biting, screaming, and feather-plucking. In this definitive reference book, a top parrot behavioral consultant explains how best to keep a captive bird in a domestic environment so that the pet will thrive, and reveals what to do to overcome and prevent problem behaviors. This is also the first parrot book to include detailed, step-by-step guidance on how to teach your bird some basic flight requests, including asking the bird to fly to and from you when asked. The book encourages the safe flying of all parrots and points out the problems of wing-clipping. Sections include: Parrots in the Wild; Parrot Biology; Different Types of Parrots; Acquiring a Bird; Understanding Behavior; Training Your Bird; Your Parrot's Home; Preventing and Solving Behavioral Problems (overcoming behaviors such as biting, screaming, self-mutilation, nervousness, and destructiveness); and Problem-solving.

Pages: 128 pp.

Published: 2007

Illustrations: Color photos

Binding: Hardcover

Size: 6.75" x 9"

Breaking Bad Habits in Parrots...$25.95 each




YOUnique Products for YOU and YOUr Birds!!