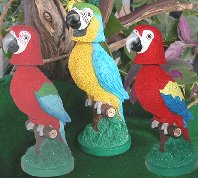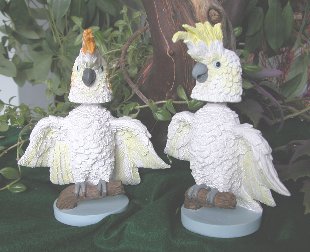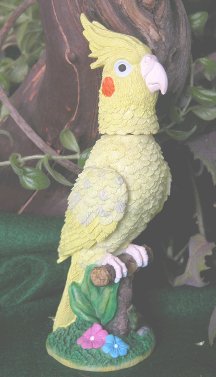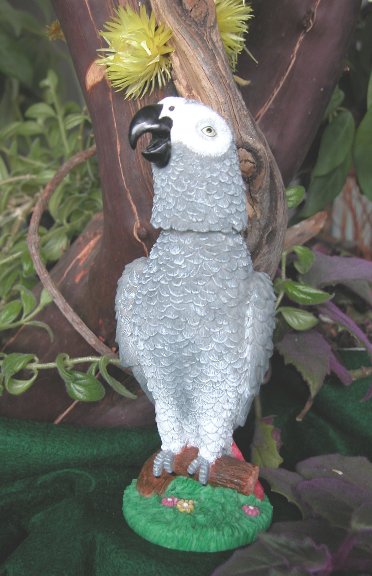 We are so excited to introduce you to our flock of unique Bobblebirds!!  Full of personality, these beautifully detailed bobbleheads grasp the amusing character displayed daily by our amazing birds.  Bobblebirds make great gifts, collectibles, souvenirs and conversation pieces.

It's all in the head - watch them "BOBBLE" and try not to laugh!!!

Our very first Bobblebird - the Cockatoo, is no exception - whether it is the Citron or the Sulphur, they both shout out ATTITUDE and spunk.  Our next Bobblebird, resembles a happy Congo African Grey standing tall and proud with feathers ruffled, talking up a storm.  The Cockatiel was next to arrive brightening a dreary day like a ray of sunshine and now FINALLY, the B&G, the Greenwinged and the Scarlet Macaws have landed to grace us with all of their beauty, too.

~ Made from a cold-cast ceramic to give them a heavy, durable collectible feel

~ Excellent detail

~ Each Bobblebird is hand painted

~ Each Bobblebird comes in its own individual box

Only $17.95 each (Cockatiel is only $22.95 each)

(RETAIL STORES please
contact us
for Wholesale Pricing)
ALL MACAW BOBBLEBIRDS ARE SOLD OUT AND ARE NO LONGER AVAILABLE

also

Cockatiels are made to order:  Please allow 2-3 weeks for delivery.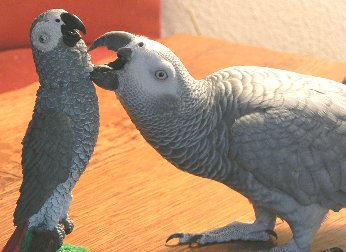 A client of ours sent us this picture of her "Gracie" checking out her Mini-Me...

Everybody loves their Bobblebirds.



YOUnique Products for YOU and YOUr Birds!!

Made to Order:

Please allow 2-3

weeks for

delivery.